Safety and Fire Equipment, Services, and Inspections
Providing everything you need to have confidence in your life safety systems.
Your Safety and Fire Equipment Partners
Fire and Safety codes can be confusing. Our long-term, experienced staff is trained, knowledgeable, and certified (NAFED, NICET) which means we understand your challenges and can answer your questions.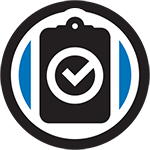 Complete all of your required inspections at one-time. We cover fire alarms, range hoods, sprinklers, and extinguishers.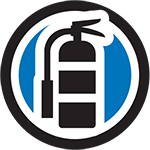 Our equipment, comes with a 1-year parts and labor warranty, to meet all of your fire and safety needs.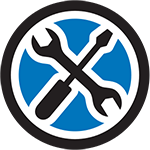 With our 24-hour service, rest assured any issues you experience will be handled in a timely manner. 
Everything You Need In One Place
No more guessing who to call or going back and forth between multiple suppliers.  We provide everything you need from inspections to equipment to installation and service. We are the one-stop-shop for all of your safety and fire equipment needs.
We Support These Industries
Don't see your industry? With many other commercial industries served chances are we've got you covered.
We're Here When You Need Answers
Do you have questions about your equipment, an upcoming insurance inspection, AHJ (authority having jurisdiction) visit or even what paperwork you need to submit?

With our 24-hour service, we're here to help so you can meet requirements and pass inspections.

Together we'll determine what you need and develop a plan based on your specific requirements.

Be confident in your solution knowing it will meet the requirements for your building or addition.
Questions We are Frequently Asked 
Do you offer a warranty on your equipment?
Yes, length of the warranty depends on the particular piece of equipment in question but is typically one-year parts and labor.
How do I know the fire marshal will require something in my building?
The State Fire Marshal interprets what is required in a building from various code texts such as NFPA 101. Our staff has a strong knowledge of these codes and can answer questions regarding what is required. The State Fire Marshal or local authority having jurisdiction also has the ability to require equipment or systems above and beyond code if they deem necessary.
What is the difference between a trouble and an alarm?
Trouble on a fire panel means that there is a problem with a device, circuit, or panel within the fire alarm system. Trouble will indicate only at the fire panel and will not activate the building notification devices.
An alarm indicates that an initiating device in the system (i.e. smoke detector, heat detector, pull station, or water flow switch) has detected an alarm condition. When this happens the fire panel will show the alarm and the building notification devices will be activated.
What do I do in case of a fire alarm signal?
In case of a fire alarm, evacuate all occupants of the building to safety. Call 911 or the fire department. A trained person can then investigate the alarm.
What do I do in case of a trouble signal?
In case of a trouble, call us at 1-800-504-0053. We can walk you through determining what the trouble is and whether or not a service call is required to rectify the trouble.
How often do my fire extinguishers need inspected?
Fire extinguishers should be visually inspected monthly. Check that the fire extinguisher appears normal and that the needle of the gauge is within the normal range, which is usually shaded green. Once a year, a more thorough inspection of each extinguisher is required.
Our inspectors will verify that the extinguisher is in good working order. If the extinguisher does not need further service, the extinguisher will be tagged with a new tag.
Every six years extinguishers are required to undergo an internal visual inspection. This may be done onsite, or a "loaner" extinguisher will be left while we take your extinguisher for service.
Every 12 years extinguishers are required to be hydraulically tested. Once again, this may be done onsite or taken back to our shop.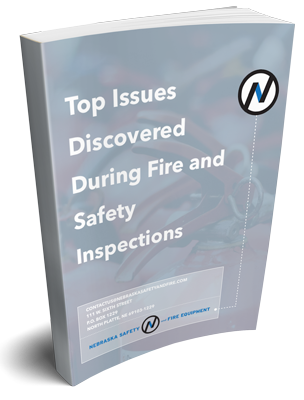 Don't Pay Fines for Preventable Issues
Not knowing which life safety and fire codes you need to meet is frustrating because violations can result in unnecessary fines, loss of funding, shuttering a business or worse a loss of life and property. 
Since 1983, we've seen first-hand the challenges companies face with complex code requirements and safety issues which is why we developed this guide of the top issues we discover during our safety and fire surveys.
Grab the guide, implements the actions inside, and avoid potentially costly fines for issues that are 100% preventable.